How to Display NFT Art
So, you've finally started that NFT collection. Now what? You don't want to leave these digital artworks just sitting in your web3 wallet just to stare at by yourself, right? To be able to show them off in the real world, you'll need to know the best ways on how to display NFT art.
With the popularity of NFTs, there have been countless innovative solutions to solve the 'how to display NFT art' problem. As such, there are many factors and unique ways to display these digital assets. We'll give a broad spectrum of options for the best NFT displays in the NFT space. Some of the factors will include where you want to display the crypto art – such as a frame TV for your living room or something more mobile – to the cost and effort of the display options.
Factors When Considering How to Display NFT Art
Cost
Size / Resolution

Able to have lower resolution with smaller screen

Wouldn't accept less than 1080p in today's day and age

Look for higher resolution screens the larger the screen size

1080p is acceptable up to 23″
4K is desirable over 40″

Rotating screen
Multiple display connectivity
App quality

iOS support
Android support

Ease of setup and use
Frame material
Any specialty features
Digital Tools to Display Your NFT Art Collection in Real Life
Specially Designed Digital Photo Frame
These are a new crop of physical frames that turn digital screens into a slick virtual online gallery, but they are an easy way to actually show new collectors your collection in the physical world!
The Tokenframe NFT Display is the best option for an NFT-specific digital picture frame and available in different sizes, ranging from a 10″ tabletop version, up to a 55″ version that NFT collectors can hang on their wall. The 10″ version has a full HD 1080p resolution, the versions up to 42″ have a 2K screen, while the 42″ and up are in stunning 4K! Depending on the model, they will either have a 16:9 or 1:1 aspect ratio. You simply connect your crypto wallet and the NFT artworks import into the system in a virtual gallery. Connect a series of Tokenframe, and become the curator of your own personal NFT gallery, especially with dark wood frames, such as Mahogany, or light wood, such as Birch.
Access your art gallery by signing into your choice of NFT wallet, linking it with the Tokenframe app, then casting your NFTs to any connected Tokenframe. There are plenty of options in the app, such as power and brightness, whether to show the NFT contract via a QR code, and schedules. You can even personalize the whole system with custom sizes, fill/fit settings, the border color/width, and much more.
The final trick up the Tokenframe's sleeve is that it comes included with a rotating wall mount. Just like your phone, when you rotate these digital NFT frames on your wall, the artwork being displayed will also rotate.
Directly from the Infinite Objects website, you can find another one of the best NFT frames. This one is from Infinite Objects Inc., where they actually send custom, officially authenticated digital display with video prints or digital images of your own NFTs, directly to your home. Their Chief Operating Officer, Roxy Fata, states that Beeple (more on him below) and Steve Aoki have been amazing brand ambassadors for them and even attracted the attention of the NBA when the organization was set to release NBA Top Shots.
Unlike the Tokenframe above, Infinite Objects are a bit more akin to family photos, as they can permanently only display a single NFT. However, the included artwork is typically a video file that can last as long as a few minutes in duration. There are dozens of artists on the platform, and each has (at least) one collection, each containing a limited quantity of NFTs.
The cool thing about learning how to display NFT art and deciding on one from Infinite Objects is that they are blockchain artworks living in video frames, but they are in a limited edition run, so it is kind of a best of both worlds situation between the digital and physical art world.
The Canvia Smart Digital Art Frame is somewhat of a combination between the Tokenframe NFT Display and the Infinite Objects products, as there can be multiple different works of art in one digital frame (like the Tokenframe) but it can display any image and video (more similar to a physical art platform).
One of the coolest features of the Canvia Smart Digital Art Frame is that the frame is equipped with sensors to adjust each image in real-time, based on ambient light, to showcase a true to life with vibrant colors that appear as if they are painted on canvas! Another great option for creating in-home art galleries!
Meural brings your digital art collection to the physical world. Display your NFTs in stunning high res, or select from thousands of pieces in the accompanying digital library. To display NFTs, connect your crypto wallet to their web platform, the Meural App, to seamlessly aggregate and display your personal NFTs. To showcase your NFT collection alongside iconic and emerging art. The Meural Art Library has over 30,000+ artworks and photographs from across the globe, with new collections added weekly.
One of the coolest features of the Netgear Meural Canvas is the ability to access Async Art to display on your Meural Canvas. Not familiar with Async Art? Check this out:
Async Art is a new art movement built on the blockchain. Create, collect, and trade programmable art: digital paintings split into "Layers", which you can use to affect the overall image. Art that can evolve over time, react to its owners, or follow a stock price is now all possible with programmable art. Launched in February 2020, there has already been over $11M in bid volume and over $4.3M in artist sales.
Just a couple examples are how some works of art update each hour on a 24-hour cycle, while others update twice a day to reflect day / night cycles. Very innovate use of technology, and we're excited to see where it leads.
With the motto "Web 3 to IRL", you know Blackdove means business. Blackdove's Digital Canvas is the largest product line in our ideas of how to display NFT art, with their smallest (that's right, smallest) Digital Canvas being 49″. Their largest offering is a whopping 98″! The Blackdove Digital Canvas markets itself for use-cases such as galleries, public spaces, luxury homes, and office spaces. So, we'll admit this is on quite the high end, but darnit, is it cool! And, when we say high end, the 98″ version with all the bells and whistles available comes to an eye-watering $16,600.
However, if you have the space and a need for something like this, this is for sure the one for you. It has a 500 nit display with 4k resolution and 60 fps (frames per second, keeps the animations looking smooth), and can be rotated to hang in portrait or landscape.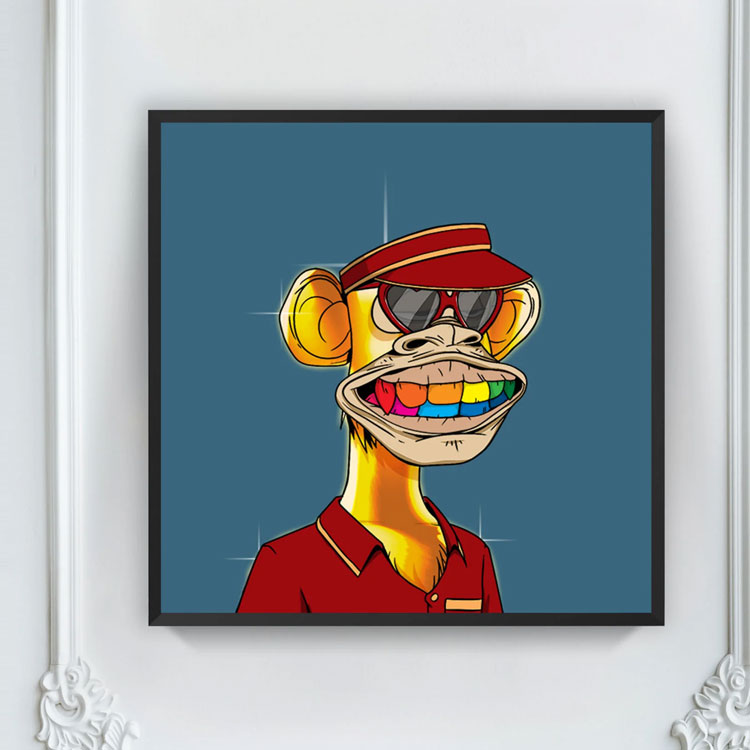 Lago, The Frame. It's that simple. The Frame offers an extraordinary experience for NFT collectors, and it's claim to fame is The only frame for minted art with stereo speakers and motion built in – allowing you to interact without limits. The standard edition comes with a 33″ display, purpose-built specifically for NFT art – generative and interative. The Lago Frame is one of the most fully featured NFT displays in this list of how to display NFT art, so we'll just highlight the coolest:
Hand Gesture Camera: Yes, you heard that right. Get your Minority Report on, and control your NFT display from afar, with only your body movements and gestures!
There's much more to The Lago Frame, so check out their site and see for yourself!
Smart TV with Custom Software
So, you've already purchased a big, fancy TV, got it hanging on your wall, and it doesn't really make sense for you to purchase something else when this thing should be able to do the same. We get it, and we got you covered. In comes the smart TVs with custom software to another possibility of how to display NFT art.
Samsung NFT Platform
If you already have a Samsung smart TV, which really all are if you've purchased in the last few years, the Samsung NFT Platform comes pre-installed to your TV to easily enjoy your favorite NFTs on your TV screen! Have a Samsung TV, and want to give it a shot? Follow these three easy steps:
Browse: You can quickly access promoted NFTs that have been curated by Nifty Gateway right on the TV screen.
Purchase: If you see one you like, you can easily purchase the NFTs you're interested in. Purchased NFTs will then be added to the My NFT section of the TV.
Enjoy: You can view promoted NFTs for free and show off your purchased NFTs. Try viewing your NFTs in full screen mode, which provides a viewing experience without any restrictions or watermarks and plays your NFTs in an endless loop.
This is a very good option if you want simple, and you already own a Samsung TV. If you have another brand, more TV platforms are developing on the horizon!
How to Display NFT Art on the Go
Social Media Platforms
Now, Twitter, Instagram, and many other social media platforms are getting in on the action by natively supporting these NFT art pieces, typically in the form of PFP (profile picture) collections. One common way these collections of NFTs are dropped, are character-type pictures, usually in the hundreds or thousands of different variations that you would replace your profile picture with.
The idea is that it is early on in the NFT lifecycle, and this is a quick and easy signal to the rest of the crypto community that you are one of them. Everyone appreciates a community!
Twitter is currently the only big name social media platform to natively verify your NFT profile picture. Follow these instructions to make the change (right now, only available to Twitter Blue subscribers on iOS):
Sign into Twitter.
Go to your profile.
Press Edit profile, then tap on the profile picture icon and select Choose NFT.
Select your crypto wallet.
Confirm you own the wallet by signing a transaction.
Select the NFT profile picture of your choosing, and you're all set!
With the recent explosion of NFTs, you can be sure all the other big platforms are hot on Twitter's heels. Be sure to check back here for updates!
DIY Options on How to Display NFT Art
Build a Custom Digital Frame with Raspberry Pi
A Raspberry Pi is single board computer that runs on a version of Linux called Raspbian and can typically be had for around $35, depending on the model. Do one quick google search, and you'll see that tinkerers have hundreds of thousands (if not millions) of different DIY projects for pretty much anything imaginable. Unsurprisingly, there are some projects to build a custom digital frame with a Raspberry Pi.
Going over every step of this build is a bit out of the scope of this article on how to display NFT art, so we'll just link to one of our favorites from Cody on GitHub.
How to Display NFT Art in a Virtual World
With the upcoming advent of virtual reality and the creation of living, breathing virtual worlds, another great way to actually use non-fungible tokens for actual utility, other than just something pretty to look at, are NFTs inside of games. Titles such as Sandbox create plots of virtual land as an NFT, which you can purchase and own an actual piece of the game.
These plots of land can be NFTs themselves, which are cool and can be seen by anyone and everyone else in the game. This is just the tip of the iceberg of what gaming NFTs can become, as there is likely going to be NFT art hanging in the metaverse (don't hate us for saying that) of your choosing!
Final Thoughts on How to Display NFT Art
As you can see, there are countless options for how to display NFT art, and we haven't even come close to listing them all. One digital artist and one of the main NFT pioneers Mike Winkelmann, better known as Beeple, created a work of art that sold for $69 million and made him a worldwide sensation! Also, one of the largest NFT art collectors Mark Cuban, who you might better know as the colorful Mavericks owner, holds quite the digital collection. With this much money and fame coming into the space, it's almost a guarantee that the collector base increases. As more and more art lovers look for different ways to come into the space, options for how to display NFT art will only continue to grow, as well, so keep checking back for updates!
Don't want to miss anything in the crypto industry? Find out how to get crypto price alerts. Maybe you're feeling a little more adventurous, follow the best crypto subreddits or learn how to build a DIY crypto mining rig!